Cryptocurrency markets fell Wednesday as Bitcoin fell below $23,000 and Ethereum fell below $1,500. The market posted a sizeable rally this month, but is now seeing a slight correction after the price spike. The market has started on the front leg in 2023 and has delivered good returns to investors who have seen constant losses in 2022.
Also Read: Is Bitcoin's Next Stop $25,000?
Why is the cryptocurrency market down?
The cryptocurrency market is down today as short-term investors appear to be posting profits. Short-term Bitcoin investors sold BTC at the $23,000 level on Wednesday after making a decent profit in a rally induced by January's CPI data.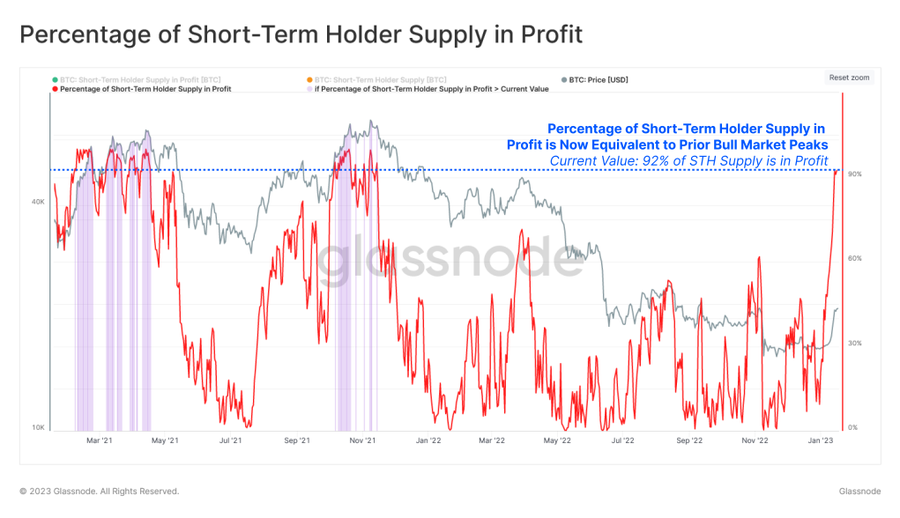 glass node Note that the majority of profit bookings are from short-term sellers. "Given this significant spike in profitability, the potential for selling pressure from short-term holders could rise correspondingly. Rounded peaks in May 2021 and levels last seen at the ATH in November 2021." Glassnode pointed out.
Also Read: Bitcoin 'Overbought' After $23,000 Rise
In addition to sales, the entire cryptocurrency market has liquidated over $200 million in the last 24 hours.
According to Coinglass data, 90.29% of these liquidations happened to traders who took long positions in the market. Total liquidations exceeded $223.43 million at press time, ultimately pulling Bitcoin and the market as a whole down.
The major altcoin is down more than 5% in trading for the day after staying positive for two weeks. However, the market appears to be making a healthy correction as the drop is less dramatic. Bitcoin and the larger markets may rebound after the selloff, sending the index even higher.
At the time of writing, Bitcoin is trading at $22,620, down 2.1% in 24-hour trading. BTC is down 67.2% from the all-time high of $69,044 reached in November 2021.