2022 has disappointed market sentiment. Some managed to get through, others barely made it through. Nevertheless, they continued to endure huge losses throughout the year, and Binance, the world's largest cryptocurrency exchange, was no exception.
According to Chinese journalist Colin Wu, spot trading volume on cryptocurrency exchanges will take a big hit in 2022. After 2021, most companies saw an average 50% plunge. The drop shows that the bear market has outpaced Binance's global acquisitions.
Huobi and Upbit were the hardest hit, with declines of 83.5% and 72.7% respectively.
Surprisingly, several exchanges also recorded an increase in stop trading volume. For example, MEXC is up 43.2% from 2021. LBank and BitMart followed suit with gains of 27.1% and 19.8%.
Moreover, despite the controversial 30% headcount reduction, ByBit managed to grow by 5.7% in 2022.
Binance Bitcoin Supply Cuts 25%
On-chain analytics platform Santiment noted that the overall supply of Bitcoin on exchanges has fallen from 11.85% to 6.65% throughout 2022. Considered to be a "historic decline," Santiment believes the focus is slowly shifting to self-management. Given that many companies went bankrupt in 2022, self-management seems to become more prominent throughout 2023.
Bitcoin supply on Binance is 25% less than before. Binance currently has a Bitcoin balance of 518,136.41. This is the best among all other exchanges. Bitcoin supply on Coinbase has dropped by 33%, holding 487,582.61 BTC at the time of writing. The Kraken recorded the highest dip. The exchange's bitcoin supply has recorded a 59% drop and his BTC balance is 68,963.93.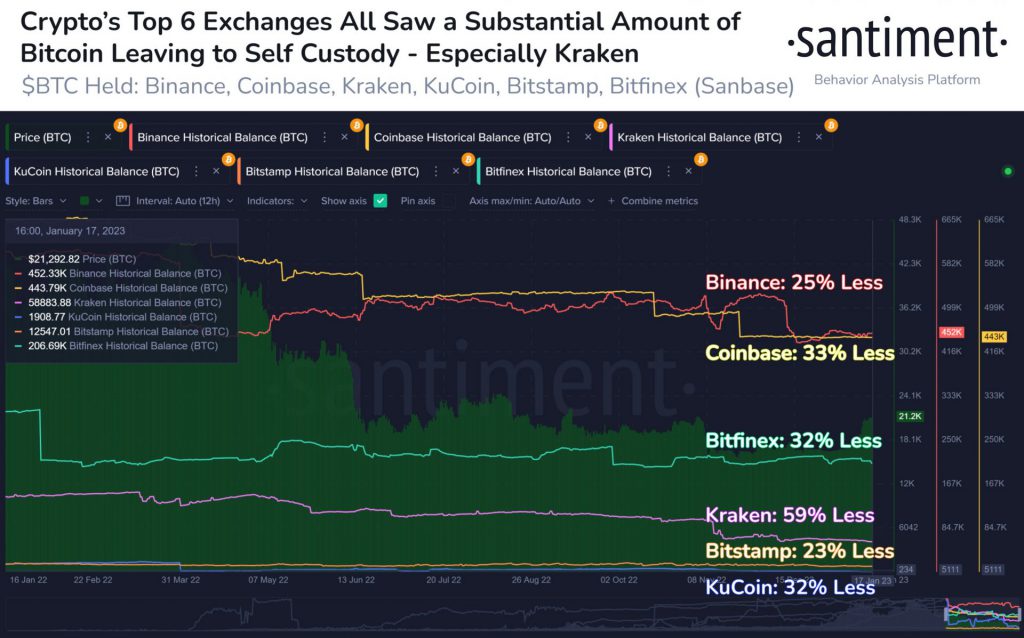 Furthermore, at the time of writing, we found that Bitcoin was registering a 2.29% decline per day. Assets dip to $20,791 as BTC breaks streak.