Bitcoin price appears to have formed a local top at $17,398 after gaining 4.3%.
Investors should be prepared to adjust to $16,000 or less, depending on the circumstances.
A 6-hour candlestick above $17,800 invalidates BTC's bearish thesis.
Bitcoin price shows the market is poised for a reversal from multiple perspectives: BTC rose slightly while some altcoins more than doubled last week. Altcoin traders should therefore be cautious this week as the situation could worsen.
Bitcoin price at inflection point
Bitcoin price has shown multiple tops in the last two months or so. Taking a closer look at BTC, the Stochastic and Relative Strength Index show a clear trend, giving signals that identify the exhaustion of the upside.
The chart attached below shows two important observations.
A correction is triggered whenever the Stochastic indicator produces a bearish crossover in the overbought region, i.e. above 80.
Some countertrend rises are sharp, while others are slower and smaller. In addition to the Stochastic's bearish crossover in the overbought zone, the RSI is also in the overbought zone, i.e. when it crosses 70, there is a high chance of a correction.
Both of the aforementioned conditions have been met twice in the last two months, with BTC dropping 27% and 11% respectively. Bitcoin price is bracing for a sharp downtrend after the latest market reversal signal occurred late Monday.
BTC/USDT 6-hour chart
To identify the key levels that Bitcoin price will visit, investors should pay attention to the chart attached below. The 4-hour chart shows that BTC is closing a significant inefficiency known as the Fair Value Gap (FVG), stretching from roughly $17,000 to $17,300.
A bearish candle has already formed on the 4-hour chart with a major hurdle at $17,800. Therefore, a retracement from the current position will knock BTC down and retest the $16,830 support level.
If sellers continue to flock, Bitcoin price could hit the $16,624 wall again, with sell-stop liquidity underneath as the lows move higher.
An ideal place for the bears to rest is after collecting liquidity for the sell stop below the comparable low formed at $15,443.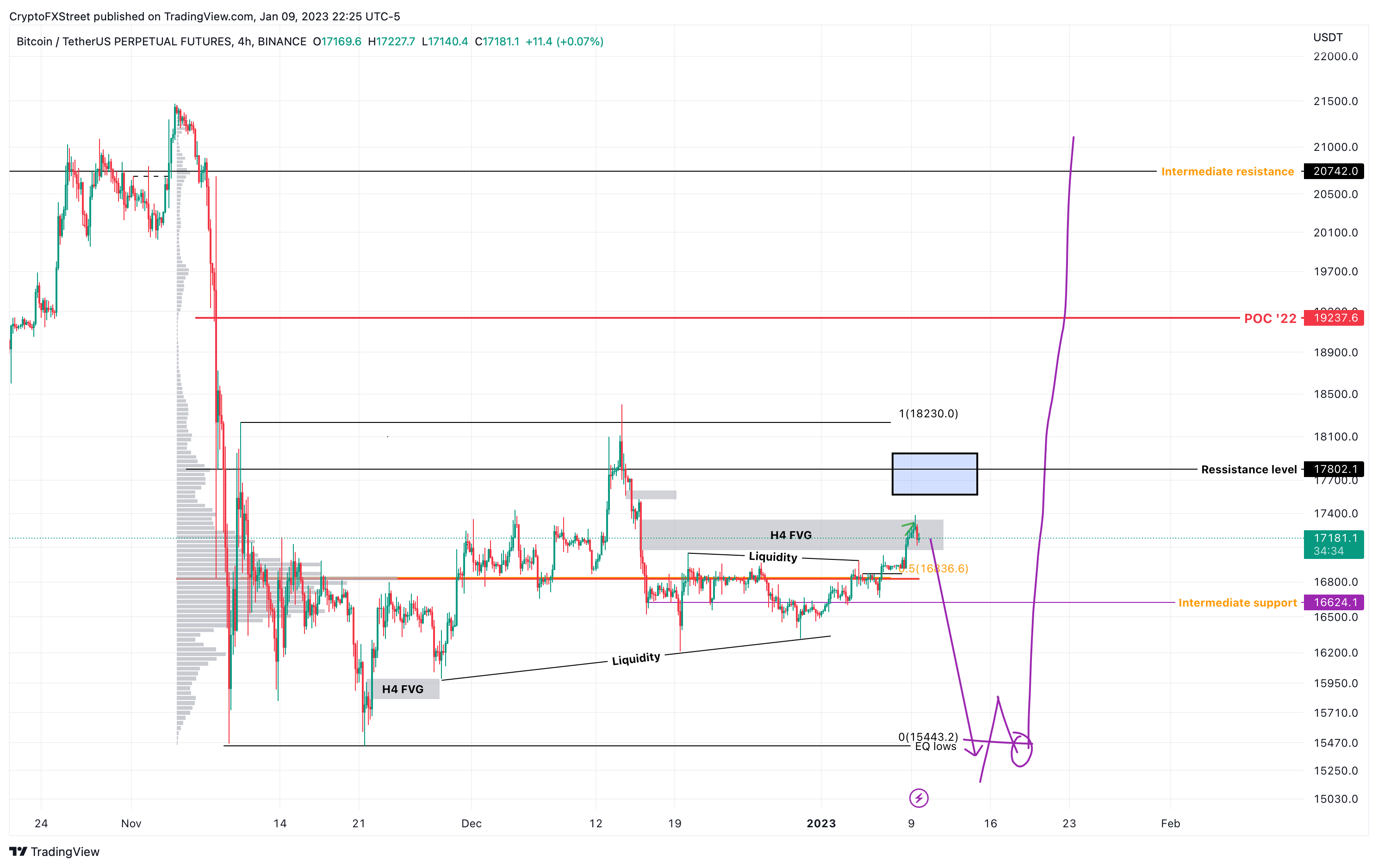 BTC/USDT 4-hour chart
Bitcoin price's bearish outlook may sound a bit surprising, but all the evidence backs it up. There is a possibility.
This move will occur if Bitcoin price generates a 4-hour candlestick above $17,800. In such a case, BTC could reverse the range high at his $18,230 and continue the uptrend to $19,237.